Session I

November 10, 2023

-

December 16, 2023

Session II

January 5, 2024

-

February 24, 2024

Session III

March 1, 2024

-

April 28, 2024
NSC Youth Indoor Soccer League – Session II
Session II Registration Deadline:

12/22/2023

Session III Registration Deadline:

02/16/2024
Session II Early Bird Discount Code:

EBINDS223

Session III Early Bird Discount Code:

EBINDS324
Keep your skills sharp with our three-session indoor soccer league. Embrace the cold outside, and the game inside!
League Features
6v6 small-sided games played in the NSC Sports Hall on infill turf; no boards
Game times will be 50 minutes in length (25 minute halves) with one referee per game
Verify player's age using the 2024 age grid. Remember: the oldest player on your team determines the age group.
Note that the league is using the 2024 MYSA Season Birth Year Age Grid
If an age division does not fill, teams will be given the opportunity to move to the next comparable division.
Individual player program available
The NSC is a multipurpose facility; teams may be required to play on alternate days.
Session I
– 9/10U Boys and Girls
– 11/12U Boys and Girls
– 13/14U Boys and Girls
– 15/16U Boys and Girls
– High School Boys and Girls
— Combined age divisions
— Using 2024 Age Grid
Session II & III
– 9/10U Boys and Girls
– 11U – 16U Boys and Girls
– High School Boys and Girls
— Single age divisions – only combined if needed to make viable groups
— Using 2024 Age Grid
Friday: High School boys (start times could be as early as 8 p.m., but majority of games will start at 9 p.m., 10 p.m. and 11 p.m.)
Saturday: 9U-16U boys and girls and High School girls (generally the youngest age groups play first beginning at noon; games could be played as late as 11 p.m.)
Some games may be on alternate days and times. Doubleheaders may also be required in certain divisions. 
– Teams dropping from the league prior to that league's application deadline will receive a voucher in the amount of the deposit. The voucher may be used towards another NSC league session within a year of the team dropping.
– Teams dropping from the league after that league's application deadline will not receive a voucher.
– If a customer (club, *team, individual) is required to quarantine due to illness or exposure to the COVID-19 virus, and are unable to participate for this reason, a refund will be not be issued unless done within the parameters of the existing policy. If notified more than 48 hours prior to game time, the event director will make every effort to reschedule if possible (excluding the final week of league play). Reschedules are not guaranteed to be on the same day or time as originally scheduled. Notifications less than 48 hours prior to the game are not guaranteed to be rescheduled and may result in a forfeit.
*Roster adjustments may be allowed per event directors discretion.
Event Cancellation Policy: The following policy will be enacted IF an event hosted by the National Sports Center MUST be canceled by the directives of the State of Minnesota or the Minnesota Department of Health. Please know that our top priority on making decisions moving forward will be the safety and health of our players, coaches, referees, employees and fans.
Team will receive a refund for your event entry. Team registration refunds will be processed at 100% of the registration total. Refunds will be credited to your account by no later than December 31, 2023.
*Please note that if a team elects to drop prior to the event, the above voucher policy will be in effect. This includes teams making their own decision to withdraw prior to the potential cancellation.
Scheduling Information
Please communicate any score corrections through your team leader.
– If you have any scheduling questions please contact Eric at ebocan@nscsports.org.
– Session I scheduling requests are due on Friday, November 3 by 5 p.m.
– Session II scheduling requests are due on Friday, December 29 by 5 p.m.
– Session III schedule requests are due on Friday, February 23 by 5 p.m.
— Session III teams must be available to play the final week of the season.
— Session III teams are able to request one bye week by the schedule request deadline. (No final week bye requests accepted)
– The league is located in the National Sports Center Indoor Sports Hall. You can find a map HERE.
Schedule Release
– League schedules will be released on the following timeline:
— First weekend's schedule will be released the Tuesday prior to the start of the session by 5 p.m.
— Remaining weeks will be available the Tuesday after the first weekend of play by 5 p.m.
Complete online Tournament Roster using your Team Manager Account.
Manage the team roster online to add, drop, or edit player information for the event.
Access the account by using the Team ID number received after being accepted into the event. Be sure to click on "Create Pwd" if it is your first time accessing the account.
Verify Concussion Training – Check the box indicating concussion training has been completed. (This is a requirement of the state of Minnesota Statute 121A.37. The U.S. Center for Disease Control and Prevention has a free, online course entitled "HEADS UP" is accessible by the link here.)
Click "Manage Players" button to add players to the NSC Roster. This will allow parents/guardians to complete the online NSC Player Waiver.
Parents/Guardians complete the online NSC Player Waiver using NSC Event HQ.
English Waiver Instructions 
Spanish Waiver Instructions
Somali Waiver Instructions
Submit/Upload Proof of Age.
Proof of age (birth certificate, passport, player pass, driver's license, etc.) is required for all players.
Upload the player's proof of age through your NSC Event HQ account. Log in and go to Customer Tools and then File Upload (Only files with the extensions "png", "pdf", "gif" and "img" can be uploaded).
The National Sports Center does not close for inclement winter weather. It is up to teams if they choose to play or forfeit during inclement winter weather. The indoor league is not responsible for games being forfeited due to weather; therefore, it does not guarantee make-up games at a later date.
The National Sports Center Indoor league is geared towards teams. We do not create teams of individual players. If a team needs an extra player they can add players from the player pool by contacting them directly through our player pool.
If you are an individual who is looking for a team you may join the player pool. Start by creating an account through the NSC Event HQ. Teams in need of players will contact you directly. Placement is not guaranteed.
Click HERE to be taken to NSC's new Event HQ to sign up.
We are excited to offer you a new player pool experience at NSC Event HQ! As a new user you will need to set up a household account in an adult's name.
– Once you create your account and verify your email address, you can add "participants" to your account (children, spouses, etc.) for which you can then complete waivers, sign up for programs and register for player pool
– You will need to provide your name, birth date, gender, address, email and phone number
– Once you have an account, and have add family members (participants), future events are smooth and easy. You simply click and add, and you're done!
– You only need to set up a household account once – quickly sign in with your new username and password for future events
– We will ask you to confirm your email to keep your account secure
Add yourself to the event player pool by setting up an account at www.NSCEventHQ.org
– Interested coaches will contact you directly by email.
– Remember: Pool players may only participate on one team.
– If you are picked up by a team:
— Remove your name from the player pool for this event by logging in to Event HQ, find your event pool and select "Leave Pool"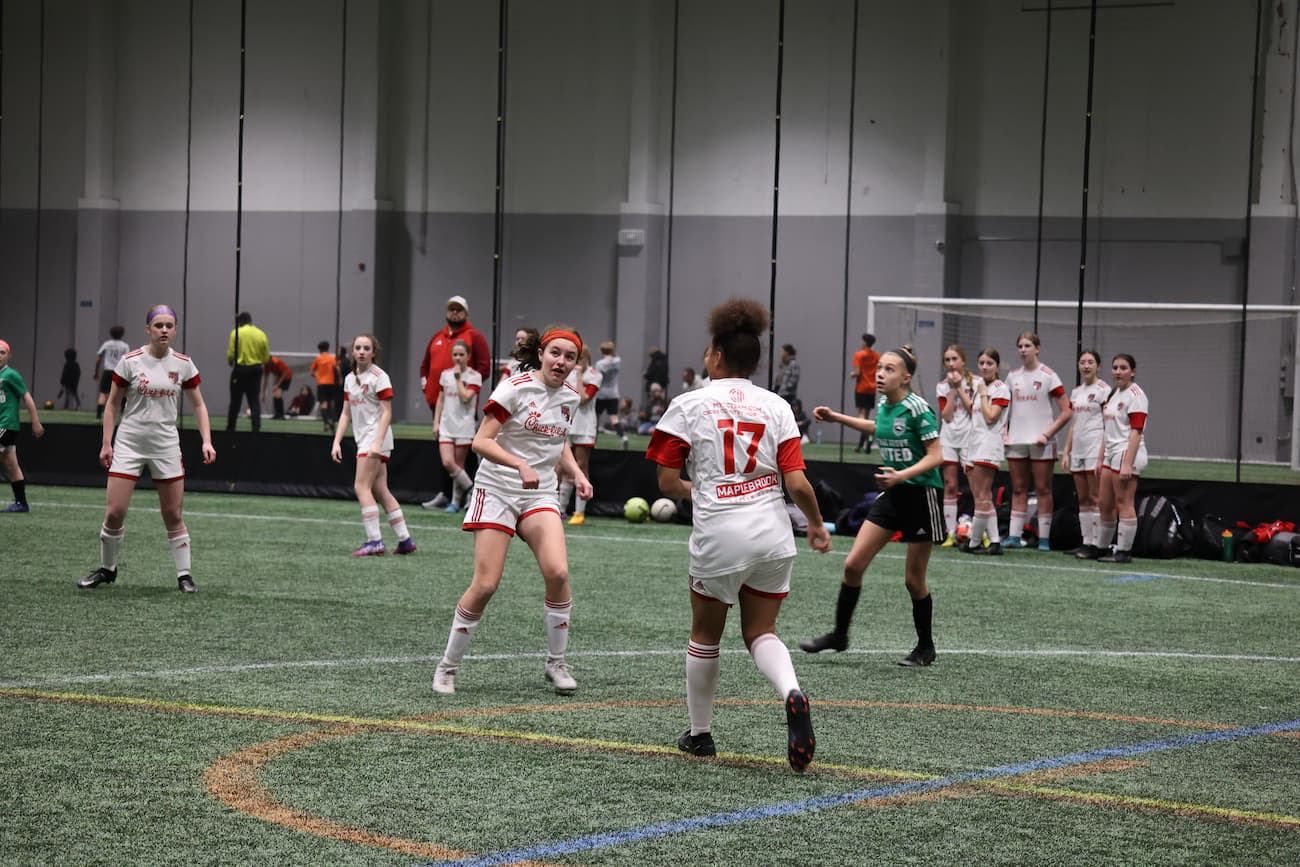 Session II




01/05/2024

-

02/24/2024




$999

Session III




03/01/2024

-

04/24/2024




$999
Promo code must be entered at time of application to receive Early Bird Discount pricing.
Session 1 | Boys 13U/14U - St. Paul Dynamo

Session 1 | Girls 13U/14U - Rush United FC

Session 1 | Girls 15U/16U - Skills FC Girls

Session 1 | Girls 9U/10U - TC Rush

Session 1 | Boys HS - Strikers Sports Academy

Session 1 | Girls HS - NSSA Academy I 0405

Session 2 | TC Rush 13B EDT1

Session 2 | Stars Futura

Session 2 | Force SC

Session 2 | Manitou F.C. - 2009 B1

Session 2 | North United

Session 2 | Lakes United 200708 Boys

Session 2 | En Fuego

Session 2 | Ed Hope Academy

Session 2 | Blackhawks 08

Session 2 | Strikers Academy FC

Session 2 | NSSA Academy I 0405

Session 3 | B11U Silver - TC Rush 2013 G

Session 3 | B12U Gold - Mankon United Academy FC

Session 3 | B12U Silver - Centennial U12 Boys

Session 3 | B15/16U Gold - North East United

Session 3 | B15/16U Silver - LUFC 2007 Boys

Session 3 | G11U - Western Wisconsin

Session 3 | G13U - Fire SC 10

Session 3 | G11/12U WC GU2011

Session 3 | G14/15U NUSC 2009 Girls Platinum

Session 3 | HS Girls - NSSA Academy I 0405