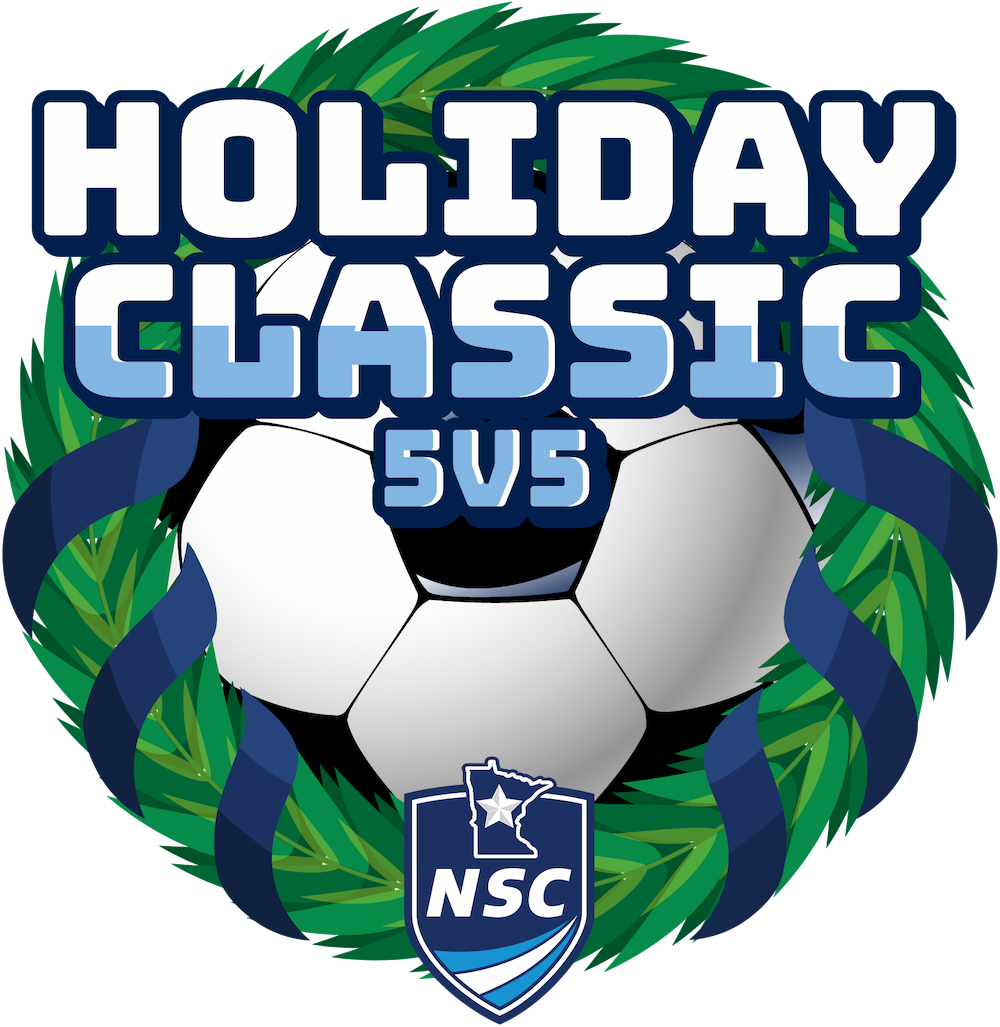 Step onto the field and experience the holiday magic at the 5v5 Holiday Classic. Witness fast-paced competition, incredible goals, and a festive atmosphere as teams compete in this action-packed event!
December
27
, 2023
-
December
30
, 2023
Age Ranges: 9U – 19U, Adults
The Holiday Classic is a non-sanctioned tournament and accepts all teams, which include: club, intraclub, tournament teams or even just a group of friends who want to play.
Team Fee Early Bird Discount Code:

EBHC23
Our most popular indoor soccer tournament has become an annual holiday tradition! Youth and adult divisions are offered.
Join us this holiday season for fun and exciting competition in the NSC's annual 5v5 Holiday Classic Indoor Soccer Tournament. The Holiday Classic is a non-sanctioned tournament and accepts all teams, including club, intraclub, tournament teams or even just a group of friends who want to play.
Tournament Features
Tournament will be conducted as one open flight
Depending on total number of teams in identified age divisions, the tournament may combine age divisions and/or break out competitive levels
Teams will be notified prior to tournament if groups are combined
Team awards for champions
Best dressed coach awarded (wear your ugliest sweater or your best holiday suite!)
Played in the NSC Sports Hall on infill turf
World Cup groups
Three-game guarantee
All games played in the same day
40-minute games (20-minutes halves)
Top teams advance to playoffs
Artificial turf surface (field size approx. 30 x 55 yards)
Four field players and a goalkeeper
Sub on the fly
NEW ADAPTIVE DIVISION ADDED!
The NSC is excited to announce the addition of the Adaptive Middle School & High School Divisions! Team placement, coaches, and pinnies will be provided. Individual registration – $38/player.
You can find the Application at the top of this page for the Holiday Classic Adaptive Division!
Schedules will be released on Monday, Dec. 18th by 5pm
​Youth Divisions
Must abide by the 2024 MYSA Season birth-year age grid.
9U/10U Girls
11U Girls
12U Girls
13U Girls
14U Girls
15U Girls
16U Girls
17U Girls
18/19U Girls
9U/10U Boys
11U Boys
12U Boys
13U Boys
14U Boys
15U Boys
16U Boys
17U Boys
18/19U Boys
Middle School Adaptive Division (11-14 yrs old)
High School Adaptive Division (14-18 yrs old)
Adult Divisions (18+)
Adult Open Coed
Men's Open
Men's Over 35
Complete online Tournament Roster using the Holiday Classic

Team Manager Account.

 
Manage the team roster online to add, drop, or edit player information for the event.

 

Access the account by using the Team ID number received after being accepted into the event. Be sure to click on "Create Pwd" if it is your first time accessing the account.

 

Verify Concussion Training – Check the box indicating concussion training has been completed. (This is a requirement of the state of Minnesota Statute 121A.37. The U.S. Center for Disease Control and Prevention has a free, online course entitled "HEADS UP" is accessible by the link here.)

 

Click "Manage Players" button to add players to the NSC Roster. This will allow parents/guardians to complete the online NSC Player Waiver.

 
Parents/Guardians complete the online NSC Player Waiver using

NSC Event HQ

.

 
Submit/Upload Proof of Age.

 
Proof of age (birth certificate, passport, player pass, driver's license, etc.) is required for all players. 

 

Upload the player's proof of age through your

NSC Event HQ account.

Log in and go to

Customer Tools

and then

File Upload

(Only files with the extensions "png", "pdf", "gif" and "img" can be uploaded).

 
The Best Dressed Coach of the tournament will be awarded a $50 Gift Card.
RULES:
– A photo must be emailed to Tournament Director by Sat., December 30st at 10PM.
– The photo must be taken in front of our Holiday Classic Photo Backdrop.
– The winner can consist of more than one coach, but must be coaches from the same team.
– Outfit must be holiday themed to win.
Teams will play their three guaranteed games and play-off games (if qualified) in the same day, according to the dates listed per division.
Wednesday, Dec. 27 –

9U/10U GIRLS, 15U GIRLS, 16U GIRLS, 17U GIRLS, 19U GIRLS, MENS OPEN, 

 

Thursday, Dec. 28 –

13U BOYS, 13U GIRLS, 14U BOYS, 14U GIRLS, MENS 35+, Adaptive Division

 

Friday, Dec. 29 –

11U BOYS, 11U GIRLS,1 2U BOYS, 12U GIRLS, ADULT COED

 

Saturday, Dec. 30 –

  9U/10U BOYS, 15U BOYS, 16U BOYS, 17U BOYS, 19U BOYS

 
These dates are subject to change depending on number of teams registered. Teams may be scheduled to play during the day.
The National Sports Center has frequent opportunities for competitive vendors to support campus events. Please apply by completing the request form below to be considered for an event. The National Sports Center will contact you upon receipt of your completed document. 
NOTE: Submitting this form does NOT guarantee that you will be selected as a vendor. 
The National Sports Center thanks you for your interest in doing business with us.